Biographies...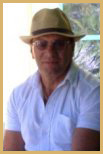 Noel Jay (Piano and Keyboards)
Although he has played piano for many years, Noel is a recent convert to jazz. He took a course at Chichester College and quickly became proficient. He has modelled his playing on jazz greats, such as Art Tatum, Oscar Peterson and Chick Corea. His talent and willingness to play in a wide range of jazz styles have won him many fans in the Portsmouth area.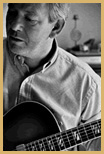 Dave Murrell (Guitar)
Dave Murrell began his career in the early 1970s playing mainly in London and was featured regularly at the blues haunts of the day: Les Cousins; The Troubador; The Marquee; etc. He recorded for Transatlantic Records and performed at the major folk and blues festivals and clubs of the folk/baroque scene, alongside Bert Jansch, Davey Graham, Fairport Convention and many others associated with that genre.
Dave has performed worldwide, alongside a host of diverse artists including Mick Abrahams, Long john Baldry, Jim Carrey (then a singing impressionist), Roberta Flack, Liam Gerner, Ronnie Hawkins, BB King, Jim Mullen, Ann Odell, Ronnie Prophet, Ray Parker, Ken Tobias and Bobby Wellins.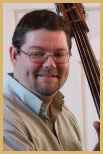 Matt Tween (Bass)
Matt started learning guitar at the age of 12 and, after several years of playing with various bands and duets, was asked to play bass with a local covers band until they found a real bassist; that was nearly two decades ago.
In 2004, Matt started learning jazz at Chichester College, and it wasn't long before the need for a double bass became too great.
Now some years later, after having played most of the well-known Jazz venues and festivals with various outfits, he performs as the regular bassist for 'ChiJazz'.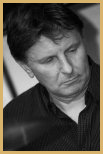 John Clarke (Drums)
Inspired by three years of tutoring from legendary British jazz drummer John Marshall, John embarked on a varied professional career in music at 22 which has included working as a touring, recording and session musician in UK and Europe with numerous named pop/rock acts and producers.
In recent years a lifelong love of jazz coupled with the opportunity of working with one of the busiest jazz bands in the south finally confirmed John's decision to develop his preferred performance style.